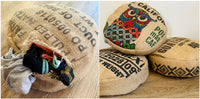 Upcycled, one-of-a-kind, handmade pieces
Items are made using gently used, salvaged clothing and remnant textiles as the fabric.
read more about lil jax
Meet the maker
Meet Asha, the maker behind lil jax. lil jax was born out of a self-taught hobby turned into passion, aptly named after her son, Jaxon.
Each item encompasses a unique style and comfort, inspired by the ever changing fabrics she comes across, while fulfilling a higher cause. 
Read more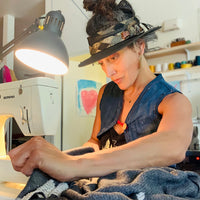 Sustainable
Approximately 12 million tons of textile waste is generated each year in North America - 5% of all landfill production is textile waste. When you shop lil jax you help keep textile waste out of landfills.
Sweatshop Free
All of our items are handmade in Santa Cruz, California using sustainable practices. That includes being sweatshop free.
Story-telling
Each piece in our collection tells a story. From the multiple pieces that went into it, to where it ends up, lil jax is all about the journey of the clothing.
I have been purchasing clothes and accessories from lil jax for years... Everything we have gotten from lil jax is not only very unique and one-of-a-kind, the quality is also unbeatable.

Marina (mom of Nikita)
The quality and workmanship; as well as the deep love, intention, and thoughtfulness she pours into each piece of clothing is something very special... It's such a beautiful and ethical process from start to finish and Im so proud and blessed to be able to adorn my little family in these unique and mindful treasures.

Carmen (mom of twins)
Uncycled from remnant finds, her California coastal creations are uniquely timeless. Each piece is one-of-a-kind magic. My daughter adores her wears with a love and pride.

Brett (papa to Emerson)